By Grace Lunsford
---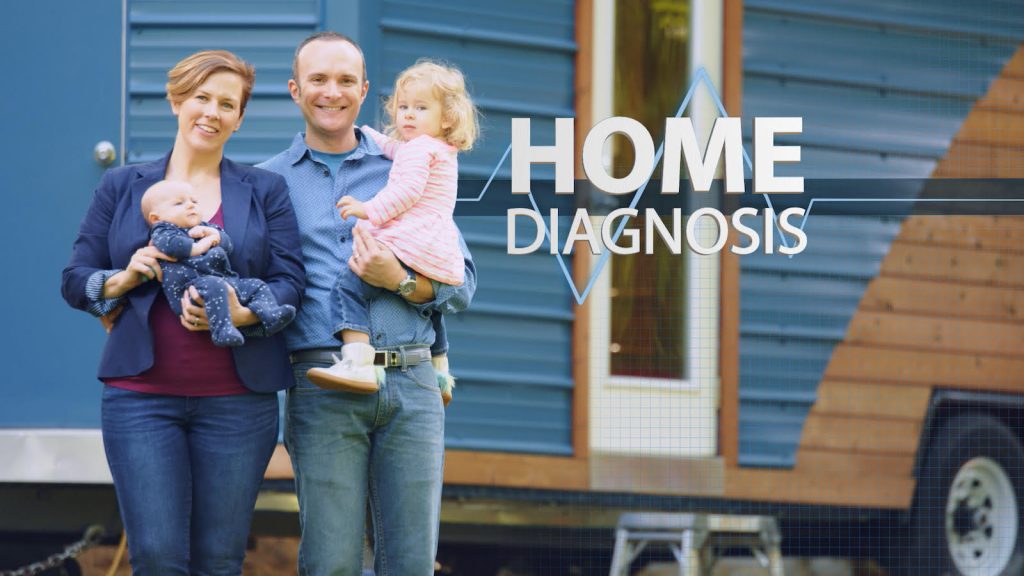 HOMEChem will soon be making its national broadcast debut in Season Two of Home Diagnosis in 2020. Hosted by Grace and Corbett Lunsford of the Youtube Channel "Home Performance", they helped tell the story through dozens of videos made at the HOMEChem/UT Test house in 2018.
"We are so excited to have the support of the Sloan Foundation- it says that our show is a science show, not just another home show. Our own awareness of indoor chemistry exploded when we helped tell the story of HOMEChem, and really pivoted our approach to Season Two. Many viewers also wrote in wanting more specifics," says Grace Lunsford.
Corbett agrees, "It's a unique opportunity because we were still in the design phase of the house we're building in Season Two, and suddenly we were thinking about the inside of the home in a totally different way. Dr. Richard Corsi really helped us think about air quality from a materials and chemistry basis rather than just our typical Home Performance moisture and thermodynamics basis." Grace adds, "The public knows things are changing in their homes, but have little idea of what is really happening. HOMEChem is the final piece of the Home Performance puzzle. "
Homeowners specifically, and the general public in the United States, don't yet understand how the invisible dynamics of their homes work- the way they feel, sound and smell is affected. There is little understanding of the building science physics at work, let alone the indoor chemistry or microbial environment, and their epidemiological effects on the occupants. A cultural subconscious distancing from this knowledge has grown as people have become busier with other aspects of life and inundated with glossy make-over home shows which reinforce their limited viewpoints. Additionally, an enormous industry of 'silver bullet' home products to solve X/Y/Z problems has exploded, solidifying this limited view of home dynamics.
It harms the public and the building industry when the home is not understood as a dynamic system. People today spend 90% of their time indoors. A good portion of that is spent in business and school environments, but the majority is spent at home. This home-time is meant to restore, but if the indoor environment is unhealthy because the home's performance is not tuned to its optimal level, then surely the inhabitants will begin (or have already begun) to reflect this. But how can people learn to see their homes in a new, more scientific way? What story can carry this message to the general public?
Home Diagnosis, a series currently broadcasting Season One in 61% of public television stations nationwide, is carrying this torch. A combination of the popular programs This Old House and CSI, this show is important because it is the only series yet to focus on the science of a home- how it performs as a system, and why that science is important to our human health and future. Home Diagnosis tells the story of the physics and chemistry of building science, forensic testing and scientific instruments, and best practices for home improvements and high performance construction, proven through diagnostics.
Led by YouTube's Home Performance expert Corbett Lunsford and his wife Grace, an actress and filmmaker, in Season Two they focus on verified solutions to help homeowners become safer, healthier, and more comfortable in their homes. Viewers will watch them personally, with their own hands, build their new 3,000 sq. ft. home, testing every step- foundation to completion, all while contrasting their work with other building performance projects and scientist interviews, and visiting homeowners with good and bad experiences of home performance.
They will incorporate the research from Sloan's HOMEChem experiment and Chemistry of Indoor Environments in the story of the series, and aim to inform and educate homeowners and building professionals alike on the importance of scientific, systems thinking when it comes to our homes. In the opinion of the show's creators, the health challenges of children today (e.g. obesity, ADHD, allergies, autism spectrum disorder) may certainly be partially due to the effect of indoor chemistry as we add more and more products and materials we don't yet understand, in a broader range of combinations, inside of homes that are becoming more airtight and insulated.
Filming of Home Diagnosis is in progress, and the Lunsfords will soon be visiting the labs of both Dr. Marina Vance and Dr. Delphine Farmer in Colorado, to film them and incorporate HOMEChem findings into the episodes. Home Diagnosis is presented by Georgia Public Broadcasting and is distributed by the National Educational Telecommunications Association. For more information and to watch Season One, visit: https://HomeDiagnosis.tv